Reports
The estimate generated includes Condensed Report, Summary Report, Detailed Report; and includes Excel Reports depending on whether you selected the 'Include Excel Repots' options under
Report Settings
while generating the estimate. The Detailed Report can include all countries in one report, or you can have each country as a separate report. To see a separate report for each country, choose the country from the drop-down list in the 'Detailed Country' field.

Types of reports:
The types of reports in the estimate generated are as listed below, each of which is explained in more detail elsewhere in this User's Guide. You can access this additional information by clicking the links indicated on this page, by going to the index and/or search functions of this User's Guide, or by accessing the Help button

on the
Reports
screen.
Condensed Report
Summary Report
Detailed Report
Timeline Report (Excel Report)
Common report (Excel report)
The top right side of the Reports screen has buttons to print, download, email, save the estimate reports or to access the Help page in the User's Guide.

Print Report: Click on the print icon on the page to print your report. Specify the destination and other details for printing and click on Print button to print the report.
Download Report: Click on the download icon to download your reports.
Email All Reports: Click on the email icon on the Reports screen, enter the email addresses to which you want to email the reports, separated with commas, in the 'Email Reports to below Address(es)' field on the Email Reports screen, and click on the SEND REPORTS button.

Save Report: Click on the save icon on the Reports screen to save the Scenario (if not done already while running the estimate.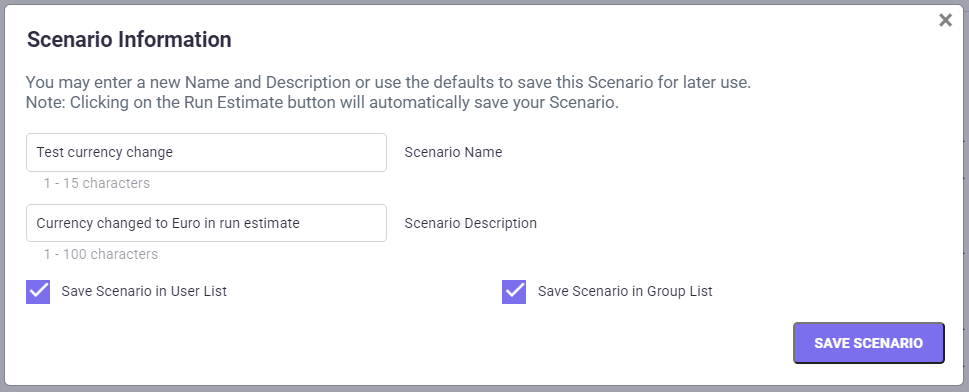 Once the scenario is saved, you can access the reports for the Scenario from the
Manage Your Saved Scenarios
under
Settings=>Scenarios
.
Run Estimate Report Help
: Click on the Help icon

to access the
Reports
section of the User's guide.